Bill Payment
HMWSSB Bill Payment – Hyderabad Water Bill Payment Online – Best Apps And Websites
Now you can do your HMWSSB bill payment without stepping out of the house. There are several online platforms through which you can make your Hyderabad water bill payment online, including the official website and apps of the Hyderabad Metropolitan Water Supply & Sewerage Board (HMWSSB).
The Telangana state government also has an official e-Wallet, namely T Wallet, using which you can do a variety of government and non-government bill payments.Besides these, third party apps and digital wallets such as Paytm, GooglePay, MobiKwik, PhonePe, etc. also allow you to do HMWSSB water bill payment online in an easy and hassle-free manner.
Here is a quick and easy guide on how to pay water bill online in Hyderabad through various digital platforms.
Summary
List Of Telangana Ministers 2020 – Cabinet Ministers Of 2nd KCR Government
Hyderabad Water Bill Payment Online Through Official Site
Follow the steps given below to pay your water bill online in Hyderabad through the official website of HMWSSB.
Step 1: Go to the HMWSSB website by clicking here.
Step 2: Click on SERVICES on the menu bar.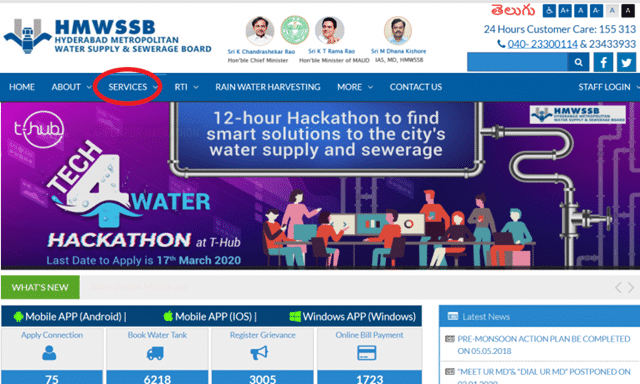 Step 3: Choose the 'Pay Your Bill Online' option from the dropdown menu.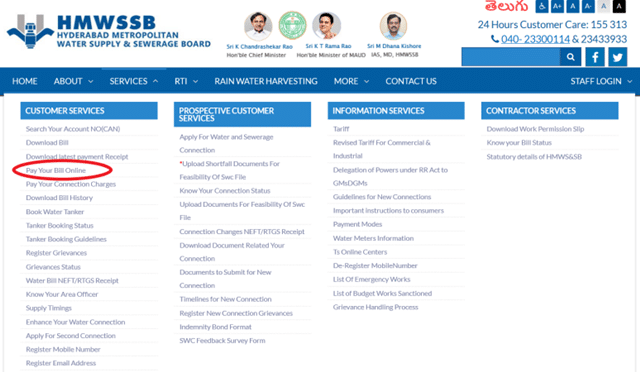 Step 4: You will get three options to make the payment – Bill Desk, T Wallet (the official digital wallet of Telangana), and Paytm (third party payment app). Choose your preferred option.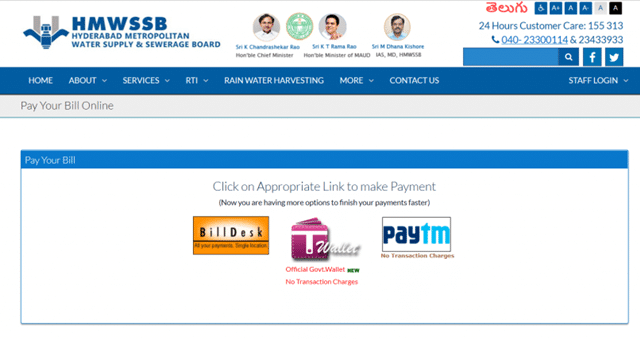 Step 5: You will be redirected to the payment platform. Enter your CAN (9-digit Customer Account Number) and proceed as per instructions to complete the payment process.
List Of Telangana Government Holidays 2021
HMWSSB Water Bill Payment Through Official App
Alternatively, you can download the HMWSSB official app on your phone and pay your water bill online using it. The app is available for both Android and iOS phones.
Click here to download the app if you are an android user.
Click here to download the app if you are an iOS user.
Apps for Making Hyderabad Water Bill Payment Online
Another hassle-free way to pay your HMWSSB bill online is third party apps and digital wallets. Listed below are some of the most commonly used water bill payment apps:
HMWSSB Contact Details
Official Website: www.hyderabadwater.gov.in/en/
24 Hours Customer Care: 155313
Phone Number: +91-40-2330-0114 / +91-40-2343-3933
WhatsApp Number: +91-99499-30003
You can download any of these apps, create an account, and search for Water Bill under the Bill Payment category. You need to choose HMWSSB as the water board from the list of options given and proceed by entering your CAN.
Most of these apps allow multiple options such as net banking, digital wallets, UPI, etc. Once you have paid the bill, you will receive payment confirmation and receipt to your registered phone number and email address.
Other Useful Information From Hyderabad