Government
List Of Bihar Ministers 2022 – Nitish Kumar's Cabinet Ministers List
Want to know the complete list of Bihar Ministers 2022? Looking for the Bihar Cabinet Minister list after the cabinet expansion on 9th February, 2020? Find out who is Bihar education minister, Deputy Chief Ministers, Bihar agriculture minister and the name of Bihar home minister in the Nitish Kuma's 7th ministry.
The present Bihar Cabinet has 31 ministers including the CM. The Bihar cabinet also includes two deputy Chief Ministers from BJP. Find below the full list of Bihar Ministers 2022 including portfolio and party of cabinet ministers.
List Of Bihar Ministers 2022 – Quick Facts
Chief Minister: Nitish Kumar – JD (U)
Deputy CMs: Renu Devi and Tarkishore Prasad (BJP)
Speaker: Vijay Kumar Sinha (BJP)
Governor: Phagu Chauhan
Opposition Leader: Tejashwi Yadav (RJD)
Sown in date: 16 November, 2021
Number of Ministers: 31
Read: List Of Indian Ministers – Cabinet Ministers Of India In Modi Government
You Might Also Want To Read
List Of Bihar Ministers 2022 – Full List Of Cabinet Ministers
Find below the full list of Bihar Ministers, led by Nitish Kumar. This is Nitish Kumar's fourth straight term as Bihar CM.
Name
Constituency
Portfolio
Party
Chief Minister Of Bihar
Nitish Kumar

MLC
Home.General Administration.Cabinet Secretariat.Vigilance.Election.Other departments not allocated to any Minister.
JD(U)
Deputy Chief Ministers Of Bihar
Tarkishore Prasad
Deputy Chief Minister
Katihar
Finance.Commercial Taxes.Urban Development.Housing.
BJP
Renu Devi
Deputy Chief Minister
Bettiah
Disaster Management.BC & EBC Welfare.
BJP
Cabinet Ministers Of Bihar
Vijay Kumar Chaudhary
Sarairanjan
Education.Parliamentary Affairs.
JD(U)
Syed Shahnawaz Hussain
MLC
Industry.
BJP
Bijendra Prasad Yadav
Supaul
EnergyPlanning & Development.
JD(U)
Mangal Pandey
MLC
Health.
BJP
Ashok Choudhary
Building Construction.
JD(U)
Amrendra Pratap Singh
Arrah
Agriculture.
BJP
Sheela Kumari Mandal
Phulparas
Transport.
JD(U)
Jivesh Mishra
Jale
Labour.Information Technology.
BJP
Shrawan Kumar
Nalanda
Rural Development.
JD(U)
Pramod Kumar
Motihari
Sugarcane.Law
BJP
Madan Sahni
Bahadurpur
Social Welfare.
JD(U)
Ram Surat Yadav
Aurai
Revenue.Land Reforms.
BJP
Sunil Kumar
Bhore
ExciseProhibitionRegistration
JD(U)
Ram Prit Paswan
Rajnagar
Public Health Engineering Department (PHED).
BJP
Jayant Raj Kushwaha
Amarpur
Rural Works.
JD(U)
Samrat Chaudhary
MLC
Panchayati Raj.
BJP
Leshi Singh
Dhamdaha
Food & Consumer Protection.
JD(U)
Neeraj Kumar Singh
Chhatapur
Environment and Forest.
BJP
Sanjay Kumar Jha
MLC
Water Resources.Information & Public Relations.
JD(U)
Janak Ram
Mines & Geology.
BJP
Mohd Zama Khan
Chainpur
Minority Welfare.
JD(U)
Subhash Singh
Gopalganj
Co-operative.
BJP
Santosh Suman Manjhi
MLC
Minor Irrigation.SC-ST Welfare.
HAM(S)
Nitin Nabin
Bankipur
Road Construction.
BJP
Sumit Kumar Singh
Chakai
Science & Technology.
IND
Narayan Prasad
Nautan
Tourism.
BJP
Mukesh Sahani
MLC
Animal Husbandry.Fishery.
VIP
Alok Ranjan Jha
Saharsa
Art & Culture.Youth.
BJP
List Of Bihar Ministers 2022 – Former Cabinet Minister
Mewalal Choudhary, who was appointed as the Education Minister resigned on 19th November, 2020 due to corruption charges. Nitish Kumar might expand the existing 14 member Bihar cabinet after the ongoing winter session.
| | | | |
| --- | --- | --- | --- |
| Name | Portfolio | Term | Reason |
| Mewalal Chaudhary JD(U) | Education. | 16 November to19 November 2020 | Resigned Due To Corruption Charges |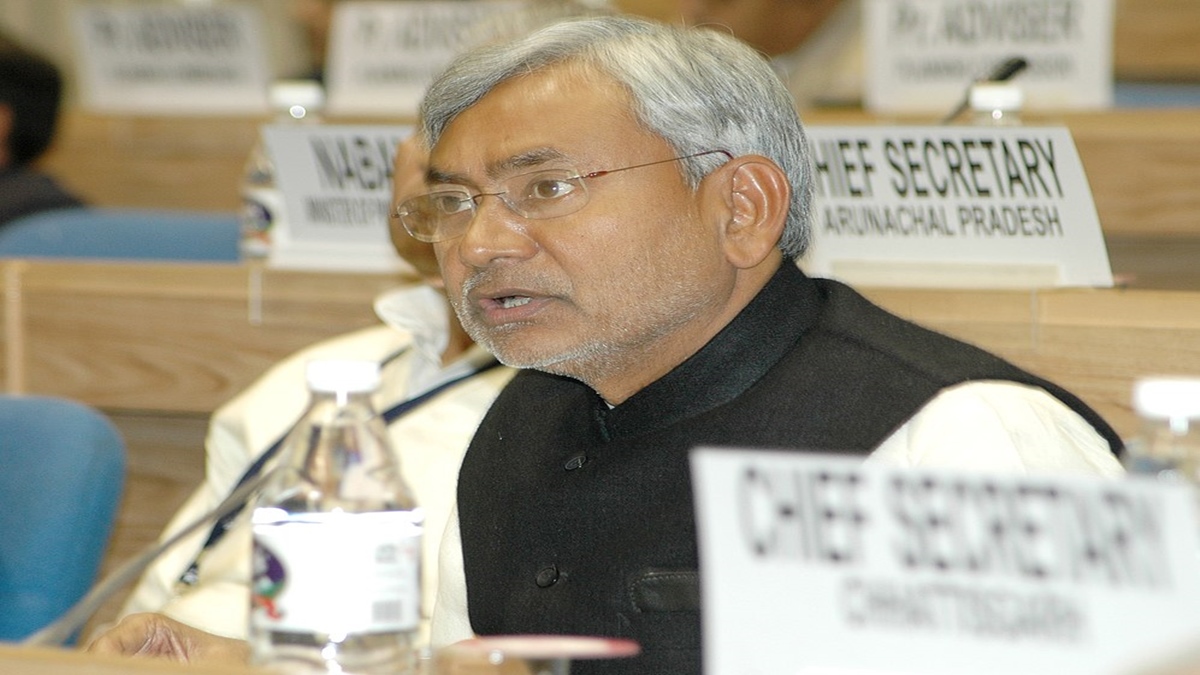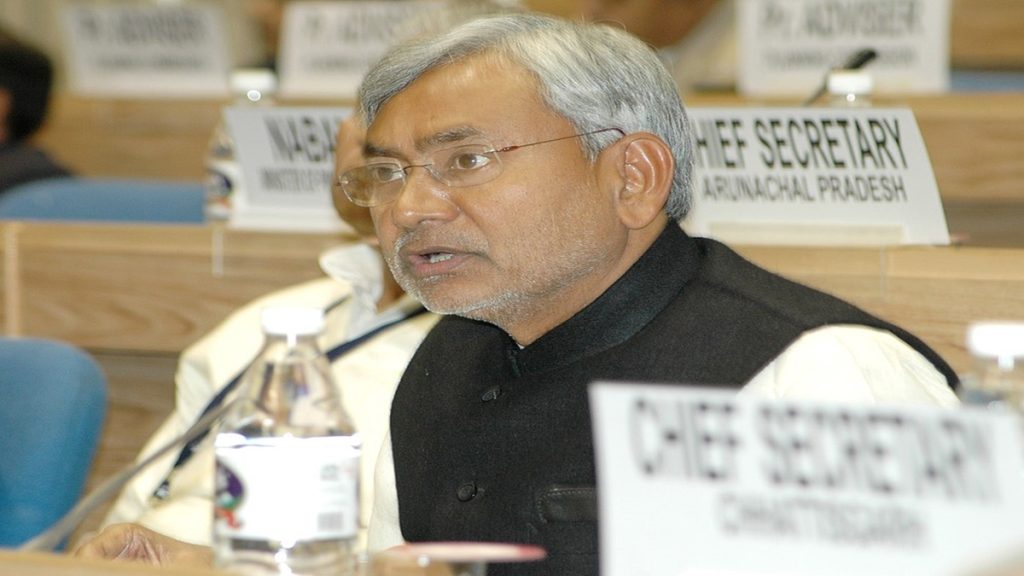 Bihar Ministers 2022 – FAQs On Nitish Kumar's 7th Ministry
The JD-U leader, Nitish Kumar, took oath as Chief Minister of Bihar on 16th November, 2020 for the 7th time after the NDA alliance won the Bihar assembly election conducted in three phases. In the election, NDA won 125 seats ( BJP 74, JD (U) 43, VIP 4, HAM 4).
The Bihar Ministers were announced by the CM and the ministry took charge on 16 November 2020. The second cabinet expansion was done on 9th February 2021 with 17 new ministers.
Who is the Chief Minister of Bihar?
The current Chief Minister of Bihar is Nitish Kumar from JD (U). He is the longest standing CM of Bihar. He has become the Chief Minister for the fourth straight term. He took charge as the CM of Bihar for the first time on 24 November 2005.
Who is the current Bihar Education Minister?
Ashok Choudhary from JD (U) is the current Bihar Education Minister. Ashok is handling the additional charge after Mewa Lal Choudhary, who was handling the education portfolio resigned due to corruption charges. Mewa Lal Choudhary is MLA from Tarapur and was expelled from JD (U) in 2017 due to corruption  allegations.
Who is Bihar Health Minister?
The current Health Minister of Bihar is Mangal Pandey from BJP.
Who is the Bihar Home Minister?
Nitish Kumar, the Chief Minister, handles the portfolio of home along with Vigilance and General Administration.
Who is Bihar Finance Minister?
Tarkishore Prasad, the Deputy CM, is the Bihar Finance Minister in the Nitish Kumar government. Tarkishore belongs to BJP and is elected to the assembly from Katihar constituency.
Who is Bihar Agriculture Minister?
Amarendra Pratap Singh from BJP is the current Bihar Agriculture Minister. In addition to Agriculture, he handles Cooperatives and Sugarcane Industry portfolio in the current Bihar Cabinet.
Who is the Deputy Chief Minister Of Bihar?
Renu Devi and Tarkishore Prasad (BJP) are the Deputy Chief Ministers of Bihar.
Source: http://gov.bih.nic.in/
Other Useful Information